Skip Navigation
Website Accessibility

Follow Laurie (owner since 2020) on Facebook
https://www.facebook.com/me/
.
Check out previous designs here:

A Chevron Nursery Book? No - it's not about cars!

What do you get when you combine ever popular Chevron Pattern with an adorable Baby Nursery?
A new book co-authored by me!



Shannon Fabrics has partnered with ADORNit, from Logan, Utah, to create the Ultimate Chevron Nursery. I was invited to work with the ADORNit team on their creative quest. We had a lot of fun working on this project, and we are sooo happy with the results!


If you love, like, or are even intrigued by the popular Chevron pattern, check this out!


The Zig Zags & Chevrons Pattern book includes adorable patterns for * Receiving Blankets * a Throw Pillow * the Sassy Chevron Everyday Tote * Strip Quilts * Patchwork Quilts * Chevron Patches * How to make a Chevron Rug * plus tips and ideas for sewing with Cuddle Fabric *** plus A LOT more!


If you love Chevron, Cuddle, or making baby nursery items, you will LOVE this pattern book! Check it out here!


Want to try out some of these cute patterns? Check out these adorable, ready-to-sew kits!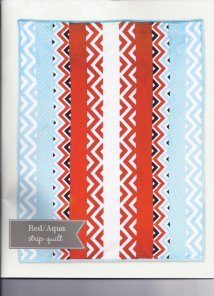 The Chevron Red/Aqua Strip Quilt The Chevron Red/Black Strip Quilt



The Chevron Patches Strip Quilt The Chevron Daisy Snuggly
Have fun creating these gorgeous nursery pieces, and remember: make some(baby) happy (and their mommies!) make them a really cool Cuddle Soft Chevron Blankie!