Skip Navigation
Website Accessibility

Follow Laurie (owner since 2020) on Facebook
https://www.facebook.com/me/
.
Check out previous designs here:

Want a new (gorgeous & super soft) quilt for Christmas?


Let the Merry Christmas season begin! We have 8" of new snow this morning! Looking at our pretty outdoor Christmas lights and garlands covered with that beautiful blanket of snow glistening in the sunlight brought back a sweet wave of happy Christmas memories.
Even that cold crisp air reminds me of happy sleigh rides and trips to the mountains to cut a Christmas tree.
I hope you're feeling the same way as we enter this wonderful season.
Because it's cold, and we want to make our families happy, I think it's time to make some warm quilts. I have just added two new quick and easy quilts to my collection of 60" x 72" strip quilts. They are only 11 strips, each cut 7 ½" so the quilt will sew together pretty quick. The kit comes with the strips pre-cut and ready to sew, and of course there is a free pattern included. These bright and cherry colors will cheer up anyone's winter blues.


If you are looking for a quick and easy gift, think about making scarves for everyone on your list. These scarves are fast and easy, and so addictive. Once you get one on, it's hard to take it off, it's like being wrapped in your own little snuggle blanket. They are available in an assortment of colors.
There is still time to make a Christmas blanket. There is nothing that says "love" like being snuggled in a warm and comfy Holiday blanket. Actually, my kids think it is a good way to keep the Christmas spirit around all year; who can put that blanket away? They are still on sale and the pre-cut kits come ready to sew with the backing and a project sheet!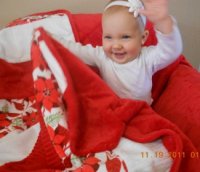 In all of the hustle and bustle of sewing, shopping and planning, don't forget the real reason for the season. Have a very Merry Christmas.
Make your loved ones happy; make them a cuddle quilt!