Skip Navigation
Website Accessibility

Follow Laurie (owner since 2020) on Facebook
https://www.facebook.com/me/
.
Check out previous designs here:

Want the best value on Cuddle? Grab It!!
We're cleaning out our Scraps - and you get to clean up on a great deal!!


As we cleaned out all our (Super Valuable, adorable and Incredibly Soft) scraps,
we sorted and coordinated 75 Grab Bags - and they're up for Grabs at a Blow-Out price of
$15 per bag!
These 13x13 zip lock bags have been stuffed with color coordinated cuddle fabrics.
The strips are assorted sizes and colors, and no two bags are exactly alike, but the fabrics inside do all mostly match. There is about 1.5 - 2 yards in each bag.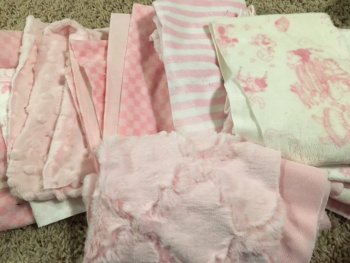 These little bags will give you plenty of fabric for small blankets, pillows, and baby mats. It's a great way to learn to sew with Cuddle.



And, if you're looking for ideas, just visit our Learning Center. Click on the tab for Free Patterns, and have fun browsing through free patterns: baby blankets, pillows, scarves, and even a stocking pattern!



Grab yourself a Grab Bag, a Free Pattern, and have some Holiday Fun!!