Are you ready for Valentines? Check out these great ideas!
Valentine's Day is coming! We're here just in time for a few last-minute inspirations!

Cuddle Soft Kits is full of fun ideas and gifts. Check out my latest additions to the boutique: there are lots of new quilts both large and small, his and hers, and some for kids and babies, and of course Grandma and Grandpa. Browse through and see if there is one that fits your needs. I can ship it to you asap, I usually ship priority, (depending where you are) so keep me in mind.
It's also a great time to look ahead for Mother's Day, Father's Day and of course graduations! (Graduates LOVE taking a cuddly blanket with them to their collegiate and beyond adventures!) And giving quilts for Easter is always a good idea.
I've added some great quilt kits. Some that you won't see on other sites. If you love the outdoors, have a cabin or just wish you did, the new Moose-cabin and buffalo plaid quilts are so great. I'm seeing black and red buffalo check designs in lots of ready to wear and bedding. These new quilts will fit in any home.




It's time for a fun special!

Babies are our business all year round, and the Shannon Fabric Embrace double gauze is always in style. Because I am a grandma, and a little bit old, I had to learn about wrapping babies in double gauze. A while back I was blessed with twin granddaughters. They were a little premature, and I got to be the nanny-nurse. Because I love my cuddle blankets, I showed up in Atlanta (in September) with my cuddle quilts and flannel blankets. Yes, it was hot and humid, but I had raised and wrapped my Idaho babies in flannel receiving blankets and I was sure I would do the same for these little darlings. Well, my sweet daughter-in law kindly taught me about swaddle blankets and assured me that this little thin blanket would be enough. Well…… she was right. I have always liked wrapping my babies up tight, and swaddle blankets are wonderful! Don't get me wrong, my little girls love their cuddle blankets, but for those tiny little dolly's swaddles were perfect.

Now, Shannon Fabrics has a great line of double gauze called Embrace. They have a great selection, but I have some fun prints and solids that I have added to my line. They are 100% cotton and are a nice double weave. While they are available in some fun kits on the site, through February I am selling a 45" x 54" cut with an instruction sheet for $6.99. All you need to do is square it up and hem the edges. The 8-10" strip on the side makes a fun burp cloth. Give them a try, and if you do add a little cuddle blanket, you'll be the favorite Grandma for sure!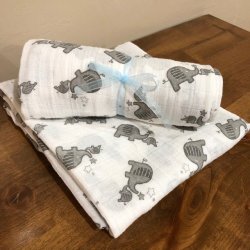 Make your kids happy, give them a cuddle blanket! (or an Embrace Swaddle blanket).