Skip Navigation
Website Accessibility

Follow Laurie (owner since 2020) on Facebook
https://www.facebook.com/me/
.
Check out previous designs here:

Why wait? Awesome cyber deals start now!



Here comes Thanksgiving, Black Friday and Cyber Monday - what a weekend!
Today I am grateful for Idaho Potatoes, a turkey big enough to feed all of my family and enough pumpkin pie to last through the weekend. I'm grateful we can all meet at Grandma's warm house - we are all so blessed. I am also grateful that I am not fighting the crowds in the morning. I'm just going to get orders ready to ship.
There is so much going on this weekend, and so many decisions. Where do you go to find all those great deals and find the perfect gift that will please the family? Well, know that here at Cuddle Soft Quilts we've got ya covered. Literally; we've got your back. We have your back in every color you will ever want. We've also got great quilt kits to match those backs. For this weekend, actually until midnight on Monday, all of our backs are 25% off.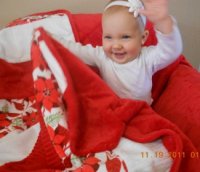 If that isn't enough to add to your gratitude list, I know everyone will be grateful to get one of these totally gorgeous Christmas throws. Whether you like it pieced or if you would just like to sew those two pieces together and start snuggling, both Christmas throws are just $24.99. I've put them together as a set, just order the kit and get the front and the back together. Order them quick, this deal only lasts through Monday at midnight!


Check out our new additions. I am really having fun with this "Tweener" idea. I think we are all Tweeners. The concept of Tweeners is someone who thinks they are too old to be a child but not yet a teen. Well, this size fits those cute little toddlers that are too big for that little baby blanket and need a little bigger blanket for their toddler beds, or that fabulous, hardworking Grandma that needs a blanket that is not too big for the rocking chair or couch, but big enough to cover her feet while she relaxes. Check out this whole group, I bet I have one for someone on your list!
I love the new "toy Chest" group from Shannon. Every little boy loves anything with wheels. Notice that the backs I am offering for this quilt are the cute prints. I have chosen to bind it with the black Cuddle diamond. It looks like tire treads. It was time for a new boy print, and this one is a hit!

So come on over, we've started our sales early just to help you get your shopping done early.
Sending you the very best Holiday Wishes –

ps – make someone (really) happy this Holiday Season, make them a cuddle quilt!