Skip Navigation
Website Accessibility

Follow Laurie (owner since 2020) on Facebook
https://www.facebook.com/me/
.
Check out previous designs here:

Is Green your lucky color?



It's March, and we have crossed the hump day of winter. I just received my first seed catalog in the mail so that's a sign, I know that winter is going to end and spring is almost here. In Idaho it's still way early to plant, but we are thinking green.


Green is a lucky color in March! And lucky you, we are having a Luck-O-The Irish Sale!

Starting today and going until St. Patrick's Day I am putting some of our favorite green quilt kits on sale for 17% off.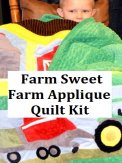 (some are greener than others - but all have some green!)

That should get you in the spring mood! It's still cool enough to want to stay inside and sew, so stock up, you can always start early for Mother's day and Father's day.
I have added a new product. Many of my friends think I am addicted to spray adhesive, and I may or may not be in my world of sewing. Either way, I have found the perfect addition to my collection of great ideas. It is the answer to the sticky residue of the overspray. The 505 company has an adhesive remover call DK5. It is amazing. It even works on hands. It isn't harsh, but it works. I use it to clean off my cutting matt and rulers that seem to get covered. I teach my students to always use freezer paper as a shield, and it works, as long as you use it. In the event you have over spray, try it. It works really well when used with one of those green cleaning pads as it scratches off the glue. It retails for $8.99 and I think it's worth it. I love using the spray-fuse technique, so this makes it so much easier.

Have you "Liked" us on Facebook yet? Check our page for fun updates on Quilt Market, products, ideas and other fun ideas! Be on the look out for some fun St. Paddy's day recipes!